An

AI-Enabled

Design & Education

Platform




·

Guiding you to compose your ideas algorithmically


·

Helping you problem-solve strategically
YOU CAN BE A
GAME
CHANGINEER
Spark

Your

Imagination

and

Creativity

with

Artificial

Intelligence
---
Hour of Code Activities - Let's Compose Some Fun!
Recommended desktop/laptop browsers: Chrome, Firefox, Edge
Have you
wondered

how games such as Downhill Ski,
Pacman, Target Kick, etc. work?

Come

read + discover

in the

Sample Video Games

and


write + create

your very own games, too!

Be an Active Learner & Creator of Tech.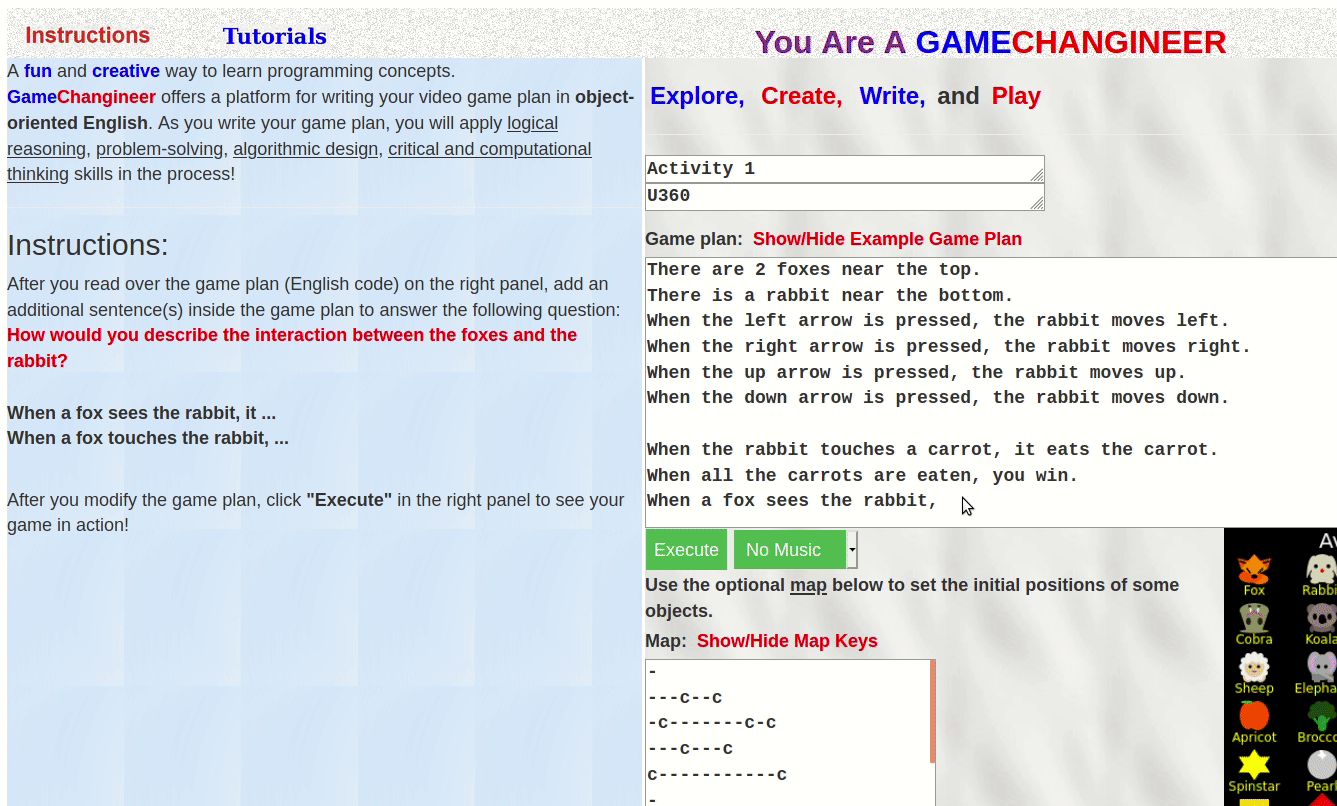 How to compose a game plan
Step 1:

Character Declaration
There are 3 foxes and 10 carrots.
There is a rabbit.
Step 2:

Player Control
When the up arrow is pressed, the rabbit moves up.
When the s key is pressed, the rabbit moves down.
Step 3:

Action and Interactions
When a fox sees the rabbit, it chases the rabbit.
When the rabbit touches a carrot, the carrot disappears.
Step 4:

Win / Lose Conditions
When all the carrots are gone, you win.
When a fox touches the rabbit, game over.
There are many lessons and tutorials available.

---
Rise Up to the
Fun Challenge!
Power Up Your
Computational Muscle!
---
English + STEM + Computational Thinking + Coding + Design
Real-Time Feedback on How to Correct and Improve Your Game
Complete Set of Tutorial Lessons with Many Sample Games
---
Go To Main Site